Chesterfield County Announces 2010 First Choice Business Award Winners at Annual Celebrate Chesterfield Business! Event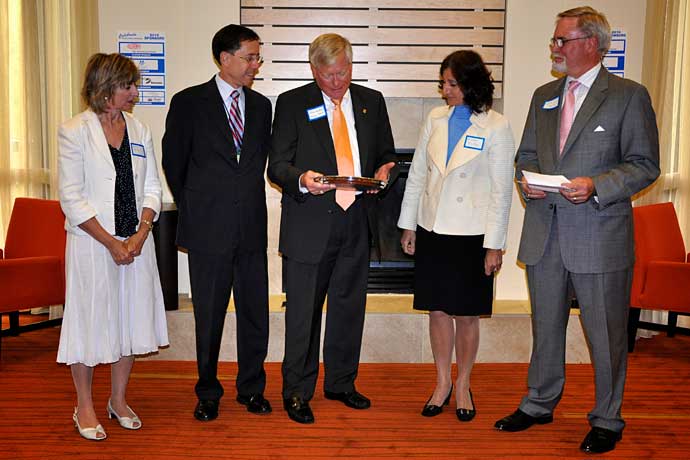 Village Bank President and CEO Tom Winfree, center, accepts the Business of the Year award from Bermuda District Supervisor Dorothy Jaeckle, County Administrator James J. L. Stegmaier, Matoaca District Supervisor Marleen Durfee and Economic Development Director Will Davis. The annual business awards event was held at the Courtyard by Marriott hotel in Chester. Awards were determined by a committee of business operators in the county.
Each year Chesterfield County honors local companies that contribute to the county's economy and its citizens through the annual First Choice Business Awards. The intent is to give recognition to businesses that consistently contribute to the community by giving back to the residents of Chesterfield County through community service, that create and deliver products or services that are innovative to its customers, is a leader in valuing its employees, and upholds the principles and standards of ethical business practices.
This year's First Choice Business Award winners were announced at the annual Celebrate Chesterfield Business! appreciation event held on May 19, 2010.
The Innovation Impact Award winner was
Alliance Engineering, Inc.
They seized the challenging economic climate as an opportunity to develop an innovative strategy diverse from their traditional client base. Their new initiative, Alliance Biosciences, allows for their team to collaborate on multi-discipline projects in a diverse field, in the combating of infectious disease.
Flagstop Corporation
was the winner of the Employee Impact Award. Flagstop sets high standards for their employees and they rise to occasion. Their team provides exceptional customer service. Employees are rewarded with bonuses, profit sharing, and top quality training and professional development opportunities.
The Environmental Stewardship Award is new this year and is designed to recognize a Chesterfield County business, which has successfully displayed their efforts in being a responsible protector of the environment. This year's winner,
Southern RV
, held environmental education clinics with over 470 attendees. The company has an aggressive recycling program for oil, batteries and paper. Company staff also takes pride in maintaining the appearance of their site by keeping it clean of trash and debris.
The 2010 First Choice Business of the Year was awarded to
Village Bank
. Village Bank has been a leader in the County for several years, celebrating their tenth year of serving Chesterfield County and the metropolitan Richmond area. Their flagship headquarters set a high standard for the future development of Watkins Center.
They have a strong company commitment, both on a corporate and individual level, to community service. Tom Winfree, President and CEO, is a founding member of the Families of the Wounded Fund. Village Bank also sponsors an annual Charity Golf Tournament that benefits several local charities including Connor's Heroes and Make A Wish Foundation.
In this past year of economic turmoil, not only have they over-come adversity but Village Bank has actually shown marked growth, adding investment services and a mortgage subsidiary to their portfolio of services. Village Bank and their staff take seriously the "community" in "community bank".
The Board of Supervisors at the July 28, 2010 meeting will recognize the First Choice Business Award winners.
For more information on this year's Celebrate Chesterfield Business! contact Tina Shreve at (804) 318-8564, or email at tina@chesterfieldbusiness.com