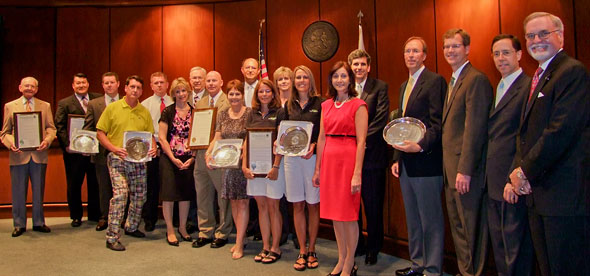 Wednesday evening night, the Board of Supervisors, County Administrator Jay Stegmaier and Economic Development Director Will Davis recognized the First Choice Business Award winners for 2011.
The Business of the Year Award went to Austin Brockenbrough & Associates LLP. Partners Carrie Langelotti, Craig Matthews and Bruce Sadler were present to receive the recognition.
The Employee Impact Award went to Priority Automotive. Bob Saunders, general manager of Priority Toyota; Jacy Poul, general manager of Priority Nissan; and Roger Johnson, general sales manager of Priority Kia attended.
The Community Impact Award was received by Hoover and Strong, represented by CEO George Hoover and President Torry Hoover.
The Environmental Stewardship Award was presented to Ironbridge Sports Park, represented by General Manager Stacy Bolton.
The Innovation Impact Award was given to ACAC Fitness & Wellness Center. Joyce Steed, general manager, and Jill Bunn, PREP outreach director, were present to receive the award.
For more information contact Tina Shreve at 804-318-8564, or email
tina@chesterfieldbusiness.com