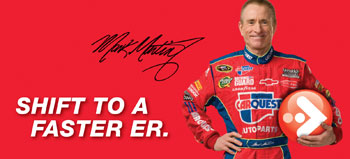 Franklin Street Marketing, a Chesterfield-based healthcare marketing and advertising agency, recently finished producing a groundbreaking national campaign for Health Management Associates (HMA), a nationwide network of hospitals. The campaign features one of NASCAR's best and most beloved drivers, Mark Martin, as the spokesperson and touts HMA's ER Extra, a new system-wide initiative to improve ER wait times.
The ER Extra campaign is the first in the hospital category to feature a celebrity of Martin's caliber as the spokesperson. It is also the first to feature Martin's wife, Arlene, and is Mark Martin's only healthcare-related sponsorship this season.
The campaign included point-of-purchase and event promotion materials, four television spots, and several print ads, radio spots, and outdoor boards. The television spots are available to view on
YouTube
.
Franklin Street Marketing is a Chesterfield County-based company with over 20 years of experience in marketing and advertising for hospitals and other health organizations. The company strives to make a difference in our community and nationally by helping healthcare organizations provide care to their patients. When hospitals can get their message out, they are in a better position to prevent and detect illness early on, and save lives.
For more information on Franklin Street or the HMA ER Extra campaign featuring Mark Martin, visit
franklinstreet.com
.