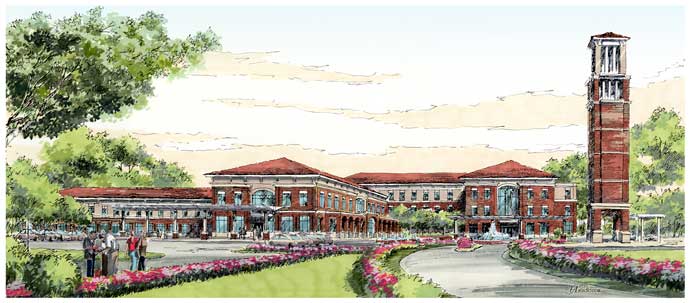 Bon Secours has celebrated the start of Chesterfield's newest health-care facility, Bon Secours St. Francis Watkins Centre. The new project will bring an influx of capital investment, 150 new jobs to northwest Chesterfield County and increased availability of ambulatory services for the county's fast growing population.
St. Francis Watkins Centre will include the area's only freestanding emergency department as well as an imaging center and physician office space. The new Bon Secours campus will be located at the corner of Route 288 and Midlothian Turnpike, just 4.5 miles from Bon Secours St. Francis Medical Center.
"Bon Secours has received tremendous support from Chesterfield County and its residents and we are pleased to serve the community," said Peter J. Bernard, CEO of Bon Secours Virginia. "Five years ago we made a significant commitment to the county with the opening of St. Francis Medical Center. Our expectation is that residents will welcome the services of Watkins Centre as they did our hospital."
St. Francis Watkins Centre is located in the northwest part of the county, and will service three large residential and commercial areas of Chesterfield, as well as Powhatan, Amelia, Goochland and western Henrico counties.
The facility will be built in phases, with Phase I consisting of 100,000 square feet of space that includes a freestanding emergency department, a comprehensive diagnostic imaging center and a physician medical office building which will house primary care, obstetrics and gynecology and internal medicine physician practices.
When Phase II is completed, the total medical campus will consist of some 200,000 square feet of space. Plans for Phase II are still under development.
"An important part of any community is making certain that quality health care is readily available to its citizens," said Lieutenant Governor Bill Bolling. "The construction of Bon Secours St. Francis Watkins Centre will do just that with a free standing emergency department, imaging center and physician office space. But, this project is also important to our economic development efforts. It will result in significant capital investment in Chesterfield County and create 150 new jobs. We appreciate the strong contribution that our friends at Bon Secours have made to the Commonwealth over the years, and we are delighted that they continue to invest in our state."
According to Chesterfield Country officials, the Midlothian area surrounding the Watkins Centre is expected to grow significantly in 10 years, creating a need for more medical services to accommodate the growing population.
"The health care industry is one of our primary economic development target markets," said Daniel A. Gecker, chairman of the Chesterfield Board of Supervisors. "The economic impact of St. Francis Watkins Centre will be significant for Chesterfield; not only are we adding accessible, quality health care, but the number of jobs the project will generate is substantial."
The project is scheduled to begin in the coming weeks, with a completion date for Phase I scheduled for late 2011.
Bon Secours is a not-for-profit Catholic health system with four hospitals in the greater Richmond metropolitan area; St. Mary's, Memorial Regional, Richmond Community Hospital and St. Francis Medical Center, as well as Bon Secours Medical Group which is composed of more than 40 physician practice groups, home health and hospice.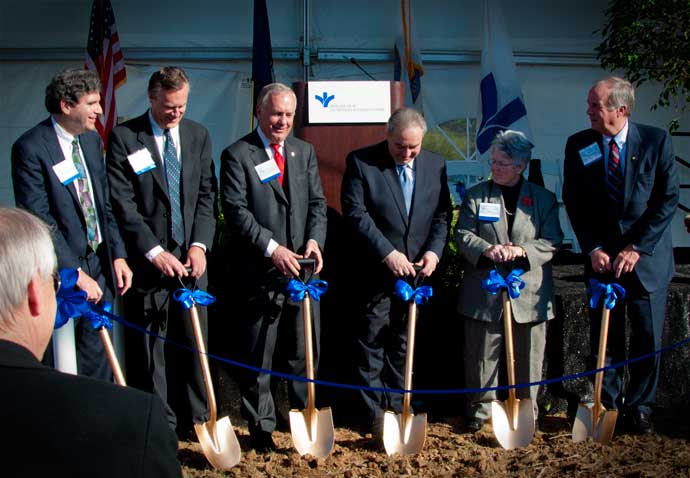 In this photo from left to right:
The Honorable Daniel A. Gecker,
Chairman, Chesterfield County Board of Supervisors
Mr. Malcolm S. Sina,
CEO, The DASCO Companies, LLC
Mr. Peter J. Bernard,
CEO, Bon Secours Virginia Health System
The Honorable Bill Bolling,
Lieutenant Governor of Virginia
Sister Anne Marie Mack, CBS
Senior Vice President Sponsorship, Bon Secours Richmond Health System
The Honorable John C. Watkins,
State Senator of Virginia